SG300 T-Tops In Stock, Ready To Ship & Ships FREE*! Call (949) 407-5000


Order by 2PM PST Mon-Fri and get same day shipping! T-Tops ship free in the lower 48 states USA!
SG300 Boat T-Top (Anodized Finish)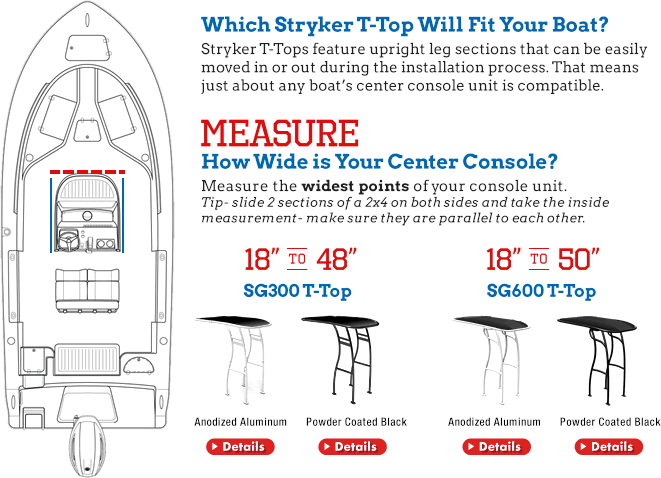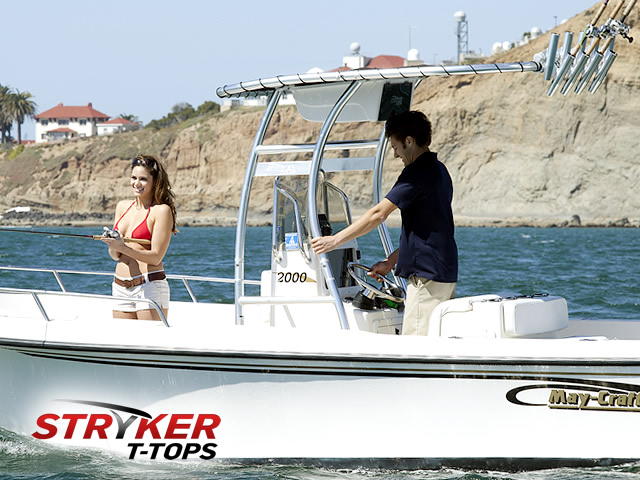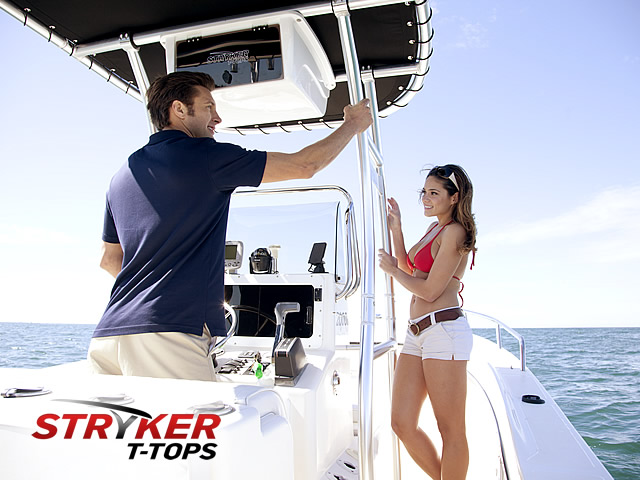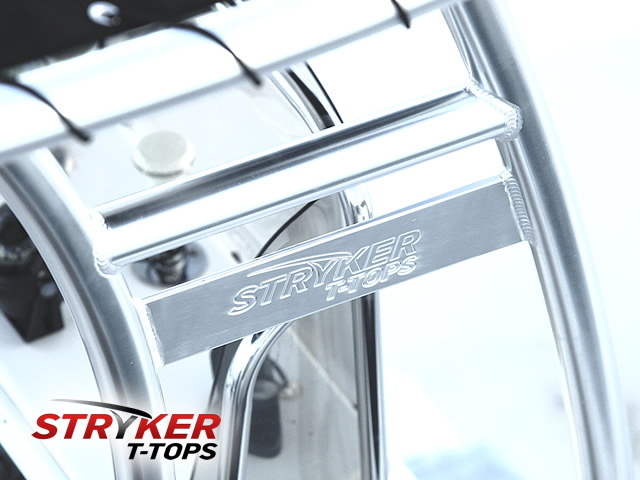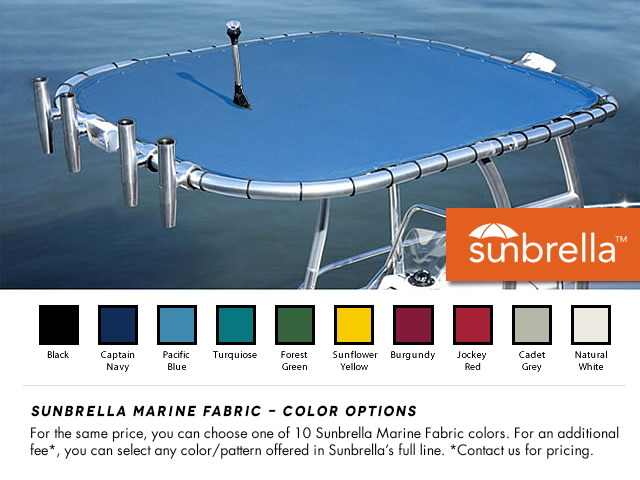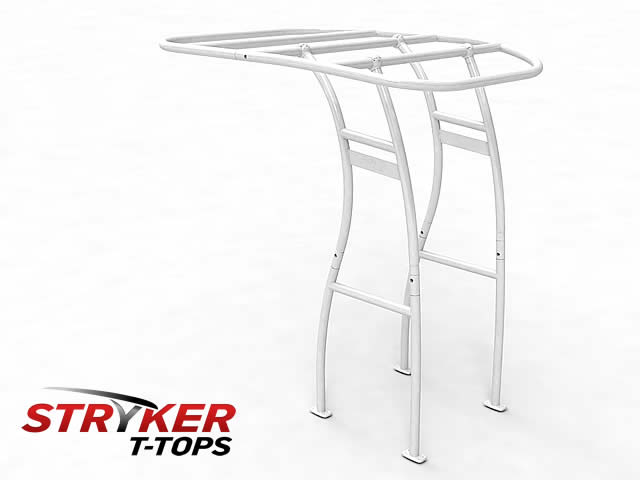 Average Rating:

4.9 /

Total Reviews:

269





5.0
"Easy 3 hour install with a helper. Lots of compliments, even from local T-Top designers & installers."
Stryker T-Top Review by Ron Smart - Rockport, Texas





5.0
"I am very happy with the top, fast install, great welds very durable. Top takes big waves and doesn't wiggle. Thank you very much."
Stryker T-Top Review by Todd Stone - Bridgeport, NY





5.0
"I love the top. I like it that much that I moved from one boat to another. The quality of the top is unsurpassed. I get a ton of compliments on it. I have the sg600, electronics bow with speakers, rocket launcher and out rigger mounts. I think it sets the boat off. Thanks for a great product and wonderful customer service."
Stryker T-Top Review by Adam Strickler - Fredericksburg, PA





5.0
"My boat is a 2007 Campion Explorer 492. It's a 17.5 ft CC. Being an avid fisherman in Canada on the Pacific Ocean is probably the greatest thing in the world! However, with the great fishing comes inclimate weather, cold winters and rain that keeps the average fisherman at home. You have only a few options if you want to take advantage of world-class year round salmon fishing. You can buy a boat that costs so much that it's sure to cause a divorce, you can charter a larger boat, or you can invest in a great top like this! It withstands the harsh winds, crazy chops and keeps me quite dry! This ain't a wimpy bimini top, that's for damned sure!"
Stryker T-Top Review by Ken McPhee - British Columbia, Canada





5.0
"I love my Stryker T-top. It is everything I expected and MORE!!!"
Stryker T-Top Review by Neal Pope - Memphis, Tennessee





5.0
"Easy to install and looks GREAT!! Had several comment that they thought it was factory. Really makes the boat look a lot better. Thanks Stryker for a great product."
Stryker T-Top Review by Greg Wilkins - Clanton, Alabama





5.0
"Thank you for making such an awesome product. I am extremely happy with not only the manufacturing of the top, but the whole design. It's fantastic. Special thanks to Mike from your sales department. Not only was he quick to reply on emails, but when I had a chance to speak with him by phone was again impressed by his professionalism and purpose... The Rocket Launcher is all I have yet to add and if it's like anything else you sent me, it will be a easy addition!"
Stryker T-Top Review by Ben Overbey - Orlando, Florida





5.0
"Excellent quality, easy to install. got the full package with all the accessories, and so worth every penny!!"
Stryker T-Top Review by Zeamon Alcorn - Arlington, Tennessee





5.0
"The T Top is excellent quality. Construction is top notch. Easy assembly, even with the Radar unit, light bar and radio antennas, the top seems to be working out nicely. Could not be any happier."
Stryker T-Top Review by John Isaacks - Iron Station, North Carolina





5.0
"I really enjoy my Stryker T-top!"
Stryker T-Top Review by Michael McKnight - Hudson, Florida





5.0
"We purchased a T-Top from you last year and everything you said was TRUE! The top was an easy installation. It has changed our fishing habits for the better. Between sun, rain, wind and typical Big Lake weather we are able to get on the water anytime we want to."
Stryker T-Top Review by Russell & Mimi Dimauro - Sudbury, Massachusetts
More than one discount or coupon code cannot be combined in a single order.