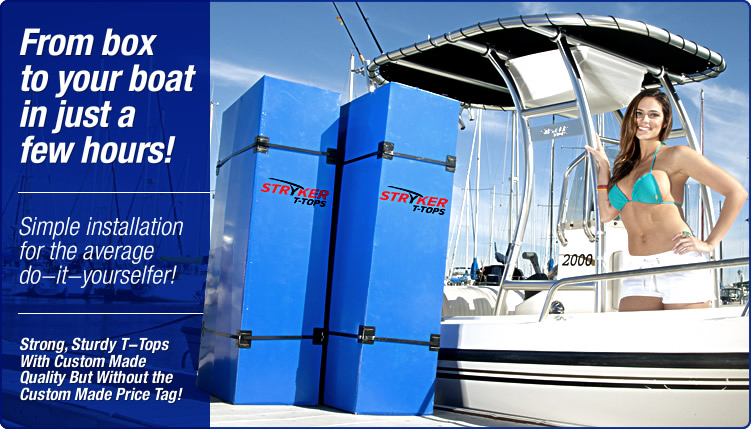 Adding an affordable Stryker T-Top package is one of the best bang-for-the-buck investments, most attractive looking and full-featured upgrades you can make to your center console boat. It instantly makes your boat more useful, easier to fish from, keeps you shaded for extended fishing days and dramatically increases the value of your boat.

All Stryker products have been carefully designed to make your installation very simple requiring very little time. Using common tools and by following our step-by-step instruction guides and videos, you can easily install your Stryker t-top with just a little planning and patience. For a fraction of the price compared to a custom fabricated or OEM t-top, you can add the shade to center console boats and have a custom quality fishing tower with room for mounting tons of handy accessories- you won't know what you did without it!

We're here, we're ready to help!
Unlike our competitors, we have a fully dedicated, full-time sales and support team waiting by the phones to help you. We're easy to get a hold of, easy to talk to and our guys don't work on commission. Contact us if you have any question about our products, the installation process or need help with your specific boat year, make and model.

In the USA:
(949) 407-5000 < Click to Call!

In Australia:
(02) 8091-6166

Live Chat Support:
(Found at the bottom of every web page)

Our office hours:
Monday through Friday, 9am to 5pm PST

Office Address:
23482 Peralta Drive, Suite B
Laguna Hills, CA 92653

Customer Installation Reviews:

5.0
"Easy 3 hour install with a helper. Lots of compliments, even from local T-Top designers & installers."
Stryker T-Top Review by Ron Smart - Rockport, Texas

5.0
"I am very happy with the top, fast install, great welds very durable. Top takes big waves and doesnt wiggle. Thank you very much."
Stryker T-Top Review by Todd Stone - Bridgeport, NY

5.0
"Easy to install and looks GREAT!! Had several comment that they thought it was factory. Really makes the boat look a lot better. Thanks Stryker for a great product."
Stryker T-Top Review by Greg Wilkins - Clanton, Alabama

Care & Maintenance of Anodized Aluminum


Anodized aluminum is the clear winner when it comes to providing a very durable, long lasting, protective and lustrous finish for aluminum products- perfect for the marine industry. Properly maintained, an anodized finish can easily last a decade or more.

Anodizing is a safe process that is not harmful to human health. An anodized finish is chemically stable, will not decompose, is non-toxic and is heat-resistant to the melting point of aluminium.

What threatens an anodized finish?
The short answer is the environment. A build up of grime which carries contaminated moisture will gradually attack the finished surface. Eventually, it will ruin the finish. Proper regular maintenance will remove harmful contaminants before the damage is done.

How to clean and protect anodized aluminum?
First, it is important to determine the condition of the surface and how long it has been since the last cleaning.

If regularly maintained, you can wash down anodized aluminium with a mild soapy solution or with warm water containing a suitable wetting agent. Because anodizing creates a hard finish, mild abrasives or an abrasive cleaning sponge is sometimes recommended. More difficult grime deposits may also require the use of a mild abrasive.

Note: If mild abrasives are required, please consult a professional. It is highly recommended that you test the use of any cleaning solutions or mediums in a small inconspicuous area before treating the entire surface. Be sure you perform your cleaning out of direct sunlight and have allowed the metal surface to cool. Be sure to follow the instructions located on the back of cleaning solutions.

Do not use harsh acidic or alkaline cleaners because they may destroy the finish. Use solvents with care as they may stain the finish. Remember to be thorough and clean all surfaces, corners and nooks. Also, thoroughly rinse with water after cleaning especially where crevices are present to ensure removal of all residues. If improperly rinsed, residual cleaning agents can lead to etching or discoloration.

What NOT to use?
The removal of grime should NOT be attempted by the use of emery paper, sand paper, steel wool or other highly abrasive materials.

Acid or alkaline cleaners are not recommended as they can damage the Anodized coating.

Emulsion cleaners or proprietary chemical agents may also attack the Anodized coating therefore they should never be used except in consultation with companies specializing in the cleaning of Anodized aluminium.

How often should I clean anodized aluminum?
Many factors like your location, local climate, constant exposure to a marine environment, fresh, salty or brackish humidity or water splashing, or direct exposure to the sun, UV and heat should be considered. Typically, cleaning should be carried out every month to every six months. The best preventative maintenance schedule will lean to more frequent mild cleaning using the appropriate method instead of less frequent harsh cleaning. Again, the aim of the cleaning operation should be the removal of grime deposited and contaminants BEFORE damage to Anodized coating occurs.


Care & Maintenance of Powder Coated Paint

Cleaning Solutions:
The best method of cleaning is by regular washing of the coating using a solution of warm water and mild detergent. All surfaces should be cleaned using a soft cloth or sponge, using nothing harsher than natural bristle brushes. If the atmospheric pollution has resulted in heavy soiling of the coating, then nothing harsher than white spirit should be used for cleaning.

General Cleaning Tips:
• Over-cleaning or excessive rubbing can do more harm than good.
• Strong solvents or strong cleaner concentrations can cause damage to painted surfaces.
• Avoid abrasive cleaners. Do not use household cleaners that contain abrasives on painted surfaces.
• Abrasive materials such as steal wool, abrasive brushes etc, can wear and harm finishes.
• When using recommended solutions avoid drips and splashes. Remove run downs as quickly as possible.
• Avoid temperature extremes. Heat accelerates chemical reactions and may evaporate water from solution. Extremely low temperature may give poor cleaning effects. Cleaning under adverse conditions may result in streaking or staining. Ideally, cleaning should be done in shade at moderate temperature.
• Do not substitute a heavy duty cleaner for a frequently used mild cleaner.
• Do not scour painted surfaces.
• Never use paints removers, aggressive alkaline, acid or abrasive cleaners. Do not use trisodium phosphate or highly alkaline or highly acid cleaners. Always do a test surface.
• Follow manufacturers recommendations for mixing and diluting any recommended cleaners.
• Never mix recommended cleaners.
• To prevent marring, make sure cleaning sponges, cloth, etc, are grit-free.

Special Notes:
If unsure what cleaning product(s), pads or application medium to use, please consult a professional. It is highly recommended that you test the use of any cleaning solutions or mediums in a small inconspicuous area before treating the entire surface. Be sure you perform your cleaning out of direct sunlight and have allowed the metal surface to cool. Be sure to follow the instructions located on the back of cleaning solutions.
Warranty & Product Return Services
WE TAKE PRIDE IN QUALITY OF OUR MANUFACTURING AND INSPECT EVERY PRODUCT BEFORE IT IS SHIPPED. Your new product was manufactured and assembled to meet the strict quality standards of the original manufacturer. We ship thousands of products every year to customers who are very happy with the quality and craftsmanship of our products.
Due to the nature of aluminum and stainless steel manufacturing and welding, some minor blemishes, scratches and/or nicks may be visible on the product. SUCH MINOR BLEMISHES, SCRATCHES AND/OR NICKS ARE NORMAL AND ARE NOT A VALID REASON TO RETURN A PRODUCT. If you believe that your product shows excessive blemishes, scratches or nicks, you must send us an email within 3 days stating your concern. DO NOT WAIT TO INSPECT YOUR PARTS! Your email must include photographs that clearly shows the size, pattern and locating of the blemish, scratch and/or nick.
If you are inspecting a part that needs assembly, be sure you do not misplace any small parts (bolts, inserts, etc.)
Stryker's 5 year warranty starts from the purchase date and covers defects that have occurred during the manufacturing process. Following a physical inspection that determines a valid warranty claim, Stryker will- at its discretion- replace, send replacement parts or reimburse for the repair of any eligible products. The anodized or powder coated finish and hardware are excluded from the warranty coverage. Stryker is not responsible for personal injury, boat damage or equipment loss directly on indirectly related to our products. This warranty does not cover damage due to acts of God (fire, flood, lighting, etc.) nor product misuse and accidental damage. Any cost of shipping and installation related to the return and replacement of products is the responsibility of the customer unless otherwise deemed by Stryker. Stryker T-Tops disclaims any warranty of merchantability or fitness for a particular purpose in connection with the Buyer's purchase of units of any Product under this agreement. Defects must be reported within 30 days from the receipt of purchase.
All Stryker T-Tops and accessories have been carefully designed, manufactured and tested to meet the highest standards of quality and performance to be extremely well suited for a specific purpose. If any product is found to have been modified, altered, incorrectly installed, mistreated, neglected, improperly maintained, used for purposes it was not originally intended for or used beyond its physical limitations of design or material, any and all warranties will be deemed void. The warranty period shall not be extended by the replacement of materials under this warranty but the remaining warranty period shall continue in effect and be applicable to the replaced or repaired products or component parts areas under conditions of the warranty.
THIS LIMITED WARRANTY IS IN LIEU OF ALL OTHER WARRANTIES, EXPRESS OR IMPLIED, INCLUDING, BUT NOT LIMITED TO, THOSE CONCERNING MERCHANTABILITY OR FITNESS FOR A PARTICULAR PURPOSE. THIS LIMITED WARRANTY IS ALSO IN LIEU OF ANY OTHER POSSIBLE LIABILITIES OF THE SELLER OR MANUFACTURER, WHETHER ALLEGED TO ARISE BY AGREEMENT OR BY OPERATION OF LAW. RESPECTING THE SALE , APPLICATION, USE OR FUNCTION OF PRODUCTS, INCLUDING BUT NOT LIMITED TO CLAIMS OF NEGLIGENCE, GROSS NEGLIGENCE, STRICT LIABILITY OR ANY OTHER TORT. IN NO EVENT SHALL THE SELLER OR MANUFACTURER BE LIABLE FOR PERSONAL INJURY OR PROPERTY DAMAGE, REAL OR PERSONAL, ATTRIBUTED TO ITS PRODUCTS, NOR FOR ANY EXCAVATION, REMOVAL, REAPPLICATION, DOWNTIME, CLEANUP, LOSS OF USE, LOSS OF OPPORTUNITY, LOSS OF MARKET VALUE, LOSS OF RENTAL VALUE OR FOR ANY LOSS OF PROFITS OR OTHER SPECIAL, INCIDENTAL, RESULTING, CONSEQUENTIAL OR EXEMPLARY DAMAGE.
For any products we sell but do not manufacture, that product's manufacturer warranty applies and RMA requests must be made with them.
RETURNS:
Goods can be returned by the ORIGINAL PURCHASER at their expense within three (3) days of the date of DELIVERY with no questions asked for a full refund of the purchase price (less shipping, labor, special order, and non-certified funds charges) provided the product(s) are in original new condition, in their complete original packaging and have not been installed.
If for any reason you're dissatisfied with your purchase, we will replace the product or refund your purchase price within 30 days of purchase date from strykerttops.com.
Note that returns must be in original packaging and in new, resalable condition otherwise a 25% restocking fee will be added. Damaged or unsalable products will not be accepted. All packaging, shipping and insurance costs incurred to return products to Aerial Wakeboarding are the responsibility of the purchaser and will not be credited. Original shipping fees paid for shipping to the customer are non-refundable.

All customer shipping charges are non-fundable. Customer is responsible for any shipping charges incurred for returns or exchanges. Customer will be billed for any additional shipping charges incurred for refused shipments.
Prior to returning any products to Stryker T-Tops for a return or replacement, it is required that you fill out the form below and submit it. If you are requesting to return multiple products, please complete a form for each product. We will contact you via email within 2-3 business days with further instructions. Thank you.
Will Calls
We do accept will call orders. Please follow these instructions:
1. Orders must be placed at least 24 hours before scheduling a will call. Please call (949) 407-5000 to place your will call order. You may also order online and select "In Stock Pickup" when checking out to designate a will call order but it is highly recommended that you still call us to verify the item(s) you need are in stock.
2. Will call orders are available at 23482 Peralta Drive, Suite B, Laguna Hills, CA 92653, between 1PM - 4PM. Please call 407-5000 if you need to schedule another time. Our business hours are 9AM - 5PM PST Monday through Friday.
3. Please note that we DO NOT accept any form of payment at the time of will call. All will call orders must be paid in full at least 24 hours BEFORE picking up the order.
4. If you are will calling a T-Top, please plan to bring a vehicle that is capable of transporting 2 boxes that are each 64" x 44" x 6".
5. Please plan to pick up your order within 5 business days of placing your order.